Discoverings under water with one fin.
Dive in troubled water.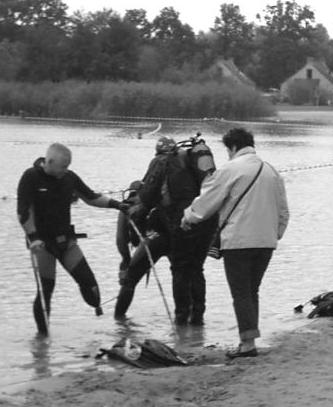 When someone mentioned scuba-diving I always thought about a lot of hassle with heavy equipment. To have fun you have to go at least to Barbados or places like that.
On a boring Sunday afternoon I read about activities for the Handicapt: Scuba-diving organised by the IAHD (International Association for Handicapped Divers).
The IAHD is a international organisation that organises the fascilities and training for diving-instructors for handicapped divers.



So one cold morning in September 2003 I sat shivering on the edge of a lake.
I had a wetsuit on and the rest of the scuba equipment: stabilizing jacket, goggles, flask, leadweight-belt, mask and only one fin.
At last my two instructors checked me, I put on my face-mask and under water we went.

This wan my first view under the watersuface, one day earlier I got instructions in a swimming pool. I knew the basics of technics, safety, handsigns and procedures .
It is a great experience to swim and breath under water, without getting tired... the sabilizing jacket with air takes care of floating on a constant depth in the water. You can propel yourself as fast or slow as you whish... just look around and enjoy oneself!
As an amputee it is tiring to stand, walk and move without a prosthesis... and always be careful not to fall. It is a wundefull feeling to not have all those things on your mind while moving freely in the water.
I had become so enthousiastic about diving, that the next day -Sunday- I grab the possibility to dive in "open water" with both hands... no matter that it was early in the morning to dive in that cold, black pool with my instructors at each side.

The perspectives were great, everyone told me on forehand.
Much different from the countless rows of white tiles I saw passing by in the swimming pool during the instruction dives. After a few hours of swimming too and fro these look very much similar.
So, full of expectations I ploughed my head under the dividing line of air and water and I looked with big eyes through the glass of my diving mask around me and saw... really saw... nothing other then mud all around me. Couldn't see furthes than 10 cm in front of me! Nothing else than mud!


Then the face of my instructor appeared in sight and he gestured to go up again. "There hadve been some divers here earlier on this spot", so he explained. "Let's just swim tweny meters more and we will have a clear sight".
So we did and this time the promised scenes dit come true right before my very eyes!
Lower and lower I swam to the bottom where the wonderful waterflora surrounded me, illuminated by a fairy-like soft green light. Fishes came swimming towards me and I became swallowed by a miraculous world I only knew from the flat tv-screen before then.
My instructor pointed to a few pale pink river-lobsters, crawling between the green. Further and further, deeper and deeper we went and I couldn't get enough from discovering what beautiful scene there was to see beyond the next curtain of waving waterplants.
A glance upwards showed me that the daylight had faded through the water above me and the depth-meter told me we had arrived to a depth of 6 meters, as deep as I was allowed as unexpierenced diver for now.
To quick for my feeling I was gestured to ascent slowly again... my watch told me that we were under the water already for 20 minutes... for my feeling it was only 5!

That moment I decided to make scuba-diving as my hobby... I wanted this exciting experience more and longer and on as many occasions and places as possible! In dark and cold Dutch pools, in the Mediterrenean, in the Pacific... I did not care as long as it's under water in scuba-equipment!



Handsignal... a "O" between thumb and indexfinger: everything is OK!

Open water diver certification? Go for it, Co!

A year after my open-water intro-dive I got again the opportunity to make an introduction-dive at diving-club "Sub'70" near the place I live. In the meantime my wounds were healed and I could continue my diving adventures at last.
I didn't like to become a member of a specific diving-club for handicapped. As soon as I'm in the water I can swim as a fish, so I subscribed at "Sub'70", a club of very friendly and helpfull people who do not think in problems... but in solutions!
| | | |
| --- | --- | --- |
| Harry makes the last adjustments | | Buddy-check with Marije... check my wet-leg! |

For the rest of the club-members I'm different, and they are right... ofcourse I am. But they help me with all they can. I always am the last one because I have to dof my prostheses and don my wet-leg... and my left hand doesn't funclion properly so handling the diving-gear is more difficult and different.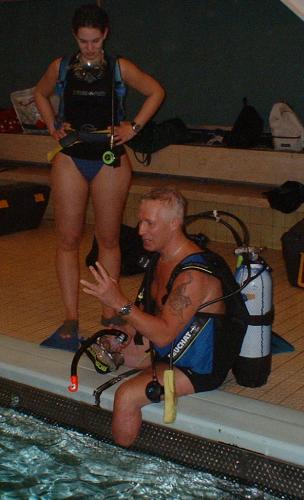 But they think about it, do some experimental work and in the end we find a safe-and-sound solution for everything. Great mentallity they have, those guys and girlf from scuba-club "Sub'70" here in Apeldoorn!

To move around in wet surroundings safe and stabile I made myself a wet-leg. Perfect for use in sauna and swimming pools.
Let me explain: I attached a well-used Blatchford MultiFlex SACHS foot and a titanium pillar to an older but still good fitting socket... a bit primitive but very effective prosthesis which does work perfect in moist conditions! The liner is my last Dermo Seal-in liner and the system stays on my stump perfectly... as long as the water doesn't leak into the socket.
I take it off as soon as I plunge into the water but I just wear it moving around and putting on the diving gear. As soon as I dress myself I change prosthesis and don my daily prosthesis.

So: I do not wear it in the water... just walk to the edge of the basin, take the leg of and jump...
I take care while showering but in the Finnish Sauna or Turkish bath I keep the leg on. Far better and safer than moving around with crutches, which is allmost impossible when wearing the heavy scuba-gear!

Everybody is willing to help me anytime with anything, but I always want to do it myself first... a little stubborn maybe?I